Natalie Filatoff profiles the second GE Papua New Guinea Emerging Leader Fellow, Kasek Galgal
---
As a boy in Papua New Guinea, Kasek Galgal was motivated by time out—he found physics and maths easy, so aligned his study path at school for fast results and a quick exit to the playground.
As the second recipient of the Papua New Guinea Emerging Leaders Fellowship, a GE-sponsored initiative of the Lowy Institute's Aus-PNG Network, he is passionate about the transformative power of technology for developing nations in the Pacific region.
First on his list of priorities is helping to enable broad access to internet services, to afford all young Papua New Guineans the educational opportunities he has had.
"I'm privileged," says the son of an agriculturalist and an accountant, who studied at school in Lae, the country's second largest city, for three years in Brisbane, and later at university in Port Moresby. "And I see people all around me who haven't had that opportunity. I think the world would really be a better place if everyone did."
CONTEMPORARY DIPLOMACY AND CYBERSECURITY
GE—with its growing involvement in Papua New Guinea, in resource extraction, power generation and healthcare—sees a natural fit in partnering with the Lowy Institute, "to build and support the next iteration of leadership for PNG; and to foster a mutual understanding of the close ties and engagement between Papua New Guinea and Australia," says Sam Maresh, GE's Senior Director of Government Affairs and Policy in the region.
He says that Galgal's skills and aims in data science and diplomacy are a coincidental match with GE's vision. "GE is pivoting towards the industrial internet, and in the economy of the future people who have that skill set, and countries and industries that can communalise those skills, will make the leaps and bounds."
Galgal's personal curriculum includes many aspects of IT, such as researching cybersecurity and PNG's policies for protecting its citizens, businesses and institutions: "When I applied for the Lowy program I hoped it would allow me the time to concentrate on an analysis of Papua New Guinea's new cybercrime policy," he says from the Lowy Institute's skyscraper offices overlooking Sydney's Circular Quay.
The Fellowship has supported Galgal to live and work in Australia for a month of immersion in the Lowy Institute environment: "I really wanted to learn more about international policy, and to apply it to something. To learn on the job," he says, "it's very valuable to me." His PNG cyber-policy analysis will be published on the Lowy Institute's The Interpreter.
A lecturer in computational physics at the University of Papua New Guinea, Galgal is also studying for a Masters in Diplomacy focusing on internet governance, with the hope of influencing outcomes and decision-making on a national, regional and international scale.
He says the diplomatic landscape is rapidly changing: "You have emerging economies such as China and India becoming key players. The landscape will continue to change and we can learn from other developing economies to become equal partners in development and trade, rather than being seen as recipients of aid."
THE POWER OF 20 LEADING LIGHTS
The 2016 GE Australia-Papua New Guinea Emerging Leaders Dialogue brought 20 prominent young thought leaders from business, government and civil society in Australia and Papua New Guinea together in a two-day series of discussions and networking sessions. The aims of the program are to formulate practical policy suggestions in key areas of Australian and PNG development and to foster lasting connections between future leaders in the two countries.
Among the topics discussed at the 2016 event in Brisbane were how these two resource-dependent economies can evolve post-mining boom, how to involve politically disengaged young people in vital political processes, and how the youth of both countries can secure rewarding employment in changing workforces.
Galgal says he was inspired by the calibre of people in the group. They included Chris Elphick, president of the Young Port Moresby Chamber of Commerce and Industry and general manager and executive director of FairPrice Furniture and Electrical; and Rosemary Benjamin, who founded Allegiance Health, a Kumul GameChanger enterprise with a mission to help under-served rural communities in PNG access the best possible healthcare.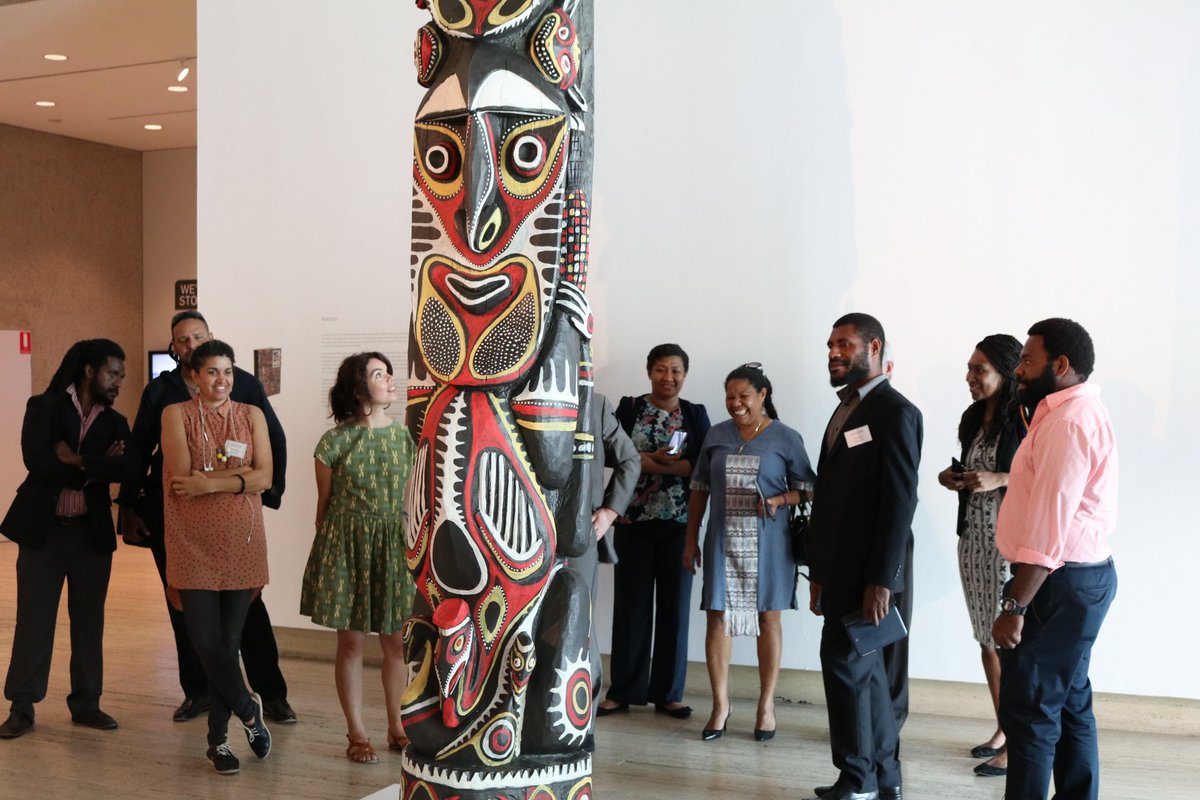 The 2016 Dialogue also explored the role of art in advocacy, and championed creativity in relationships between communities and people. Creatives, such as artist and live painter Jeffry Feeger from the Milne Bay Province in PNG, and Catherine Graue, youth and content advisor to the PNG National Broadcasting Corporation combined thinking with Adelaide-based barrister Sebastian de Brennan and Geraldine Paul, project co-ordinator for the Productive Partnerships in Agriculture Project, for Care International in Bougainville.
ELECTRICITY ESSENTIAL FOR EDUCATION
Galgal identifies an improvement in the quality of internet as well as affordable access as having the potential to advance PNG's development goals by empowering its society. He became involved in internet policy and governance, "mainly out of frustration for the state of the internet in my country", and is a board member for the Pacific Islands chapter of the Internet Society, an NGO that advocates for open development of and equal access to the internet for the betterment of society.
According to World Bank Statistics, around 8% of PNG's population is subscribed to the internet, and Galgal says that the cost barrier can only be reduced as more people sign up. Mobile phone is the most likely vehicle for future information exchange, and even education, but although PNG's mobile penetration has jumped from 1.6% in 2006, to 49% in early 2016, some 87% of the country's population lives in rural areas, most of which receive only 2G services—and many of which do not have consistent electricity supplies for charging devices.
In an article 'The benefits and challenges of ICT in PNG'published on The Interpreter, Galgal says the Caribbean has overcome similar problems to deliver open-learning resources to students via electronic media. He believes that people, businesses, the technical community, academia and government must "realise and appreciate the value that access to information for everyone adds to their own interests".
Galgal is excited about the opportunities for rapid processing of data, and rapid presentation of the resulting information across digital networks. He first combined computational capabilities with physics because "I hated doing manual calculations and found computers could do it a lot better." His early instincts—to work more efficiently, and faster—have equipped him to learn and achieve across disciplines, and to make the most of a times-twenty collaboration.
This article was orignally published on GE Reports, and is reproduced here with their permission.